Asheville, NC
Half Marathon, 10k, 5k
Event Overview
Register
Athlete Guide
Event Deals
Sponsors
Charity
Live Tracking
Volunteer
---
The Blue Cross and Blue Shield of NC Race 13.1 Asheville, NC half marathon, 10k and 5k returns on November 12, 2016 to one of the most quintessential and beautiful mountain towns in western North Carolina. The race will start and end in the heart of downtown Asheville at the historic Pack Square Park, and feature some of the best sites Asheville has to offer, including the scenic Reed Creek Greenway, the beautiful Asheville Botanical Gardens and the campus of UNC-Asheville. Returning runners will be happy to hear that this year's route features a 15% decrease in elevation from 2015 and will make an extra loop around the downtown Asheville area at the start of the race, eliminating the second trip up to the Nut Hill lookout point!
This thriving mountain city features a funky and eclectic downtown, 30-plus art galleries downtown alone, a burgeoning culinary scene, a thriving live music scene and the awe-inspiring scenery of the Appalachian Mountains. This is the perfect race destination for anyone looking for a weekend filled with culture, great dining and beautiful views of the Blue Ridge Mountains! If running a 5k, 10k or half marathon isn't enough, a scenic hike - or at least a drive along the Blue Ridge Parkway - should definitely be added to your plans!
Above: Reed Creek Greenway
Where is the race?
The race is in Asheville, NC, and will start and finish at Pack Square Park (121 College St., Asheville, NC).
Where can I register?
Click on the 'register' tab above!
What day is the race, and when does it start?
The race is on Saturday, November 12, 2016. The official start time for the half marathon will be 7:00 am. The 10k and 5k will start at 7:15 am.
How many participants are allowed in each event?
Half Marathon: 1,500
10k: 750
5k: 750
Will participants receive any merchandise?
Each racer will receive this race tech t-shirt. We will offer both men's and women's size shirts. All participants will also receive access to numerous Event Deals. A link to view and claim the Event Deals will be emailed out prior to the race and can be found on the race page. If you choose to register at packet pick-up on race day, we cannot guarantee a race t-shirt. They will be available to race day registrants on a first come, first serve basis while quantities last.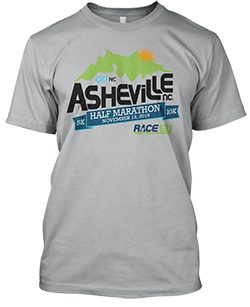 Will there be medals for participants?
All half marathon finishers will receive this medal!

Will there be professional photographers and photos for purchase?
Yes! Professional photographers will be on site for the race and will provide photos for purchase.
Is this race a USATF Certified Course?
Yes, course certifications for Race 13.1 Asheville are below:
13.1 -

NC16059DF

10k - NC15110DF

5k - NC15103DF
Is there a time limit?
Yes, all three distances must be complete by 10:30am.
Is there prize money or awards?
Awards will be given to male and female overall and age group winners based on chip time. Overall awards will be presented at 10:00am, age group awards may be claimed at the Race 13.1 Customer Service tent following the awards presentation. Winners must be present to receive their prize; awards will not be mailed out.

Age groups are as follows: 19 & under; 20-24; 25-29; 30-34; 35-39; 40-44; 45-49; 50-54; 55-59; 60-64; 65-69; 70-up.

Overall Awards - Giftcards provided by Fleet Feet Asheville

| | | | |
| --- | --- | --- | --- |
| | 5k | 10k | Race 13.1 |
| 1st | $50 | $50 | $100 |
| 2nd | $25 | $25 | $50 |
| 3rd | $15 | $15 | $25 |
Elite Athletes
An elite athlete may receive one comp entry if he or she meets the standards listed below:
Time standards: 1:14:00 for males and 1:28:00 for females.

Time standards must be met in the the 12 months preceding the race date.

Runners must have proof of their time. Email info@race131.com for details.

Race 13.1 reserves the right to adjust time standards at any time.

​All elite athlete requests must be submitted at least 10 day prior to race day to info@race131.com.
When is packet pick-up?
Packet pick-up for Race 13.1 Asheville will be:
Can I pick-up someone else's packet?
If you have a picture of their photo ID, yes you can. A picture on your phone works well!
How do I become a volunteer?
We need volunteers to make this event happen! All volunteers will be given a t-shirt! Please click the volunteer tab above for more information.
Will there be live tracking for my athlete?
No, we will not offer live tracking.
Where can I find the results?
Results will be posted in real time on our website at Race131.com/results! We will also send you a text message during the race with a link to view the results after you finish.
Can I get a refund?
Refunds will not be issued for any reason. You may change your race distance, and you may transfer to another race up until 72 hours prior to Race Day. Please note: If you do not change your race distance either online or in person with a Race 13.1 staff member prior to the race start, you will be disqualified from the event.
What food and drinks will be on the course?
The course will have feature plenty of aid stations, and water and sports drink will be served at the aid stations.
Will there be bathrooms on the course?
We will have two Rent-A-Johns at each aid station on the course.
Can I wear headphones?
It is unsafe to wear headphones while running. Event organizers will not restrict headphone use and leave it up to the athlete on his/ her ability to follow direction while wearing headphone devices. If you do choose to wear headphones please keep the volume level down so you are able to hear and follow the direction of course volunteers. We have a unique course where you MUST listen to volunteers.
Can someone else run in my place?
No, you are not allowed to transfer bib numbers.
Can I register on race day?
Yes, you will be able to register on race day and at packet pick-up, as well as online up until one hour prior to the race – though you must pick up your bib in time to race!
Are walkers allowed in the race?
Yes, however, you must meet the requirements of the completing the race in 3.5 hours or less (any distance).
Are baby joggers, strollers or pets allowed during the race?
No. This is to ensure runner safety and comply with liability insurance policies.